Tips for Choosing the Perfect Bedroom Furniture Set
Nothing can enhance a good night's sleep like having a comfortable, restful bedroom. With a fresh wall paint color, some personal artwork, and the perfect bedroom furniture set, you can set the scene for a restful sleeping area. Here are some bedroom ideas to get you started, whether you are updating your primary bedroom or a smaller one.
Tips For Any Bedroom
Start with a good bedroom layout, so it is easy to get around and access chests of drawers without tripping over furniture or not being able to access your things. Make the most of storage, to avoid clutter that can make the space feel hectic and unpleasant.
Keep Uncluttered
A storage bed can help you make the most of your space, especially if you have a small bedroom to work around.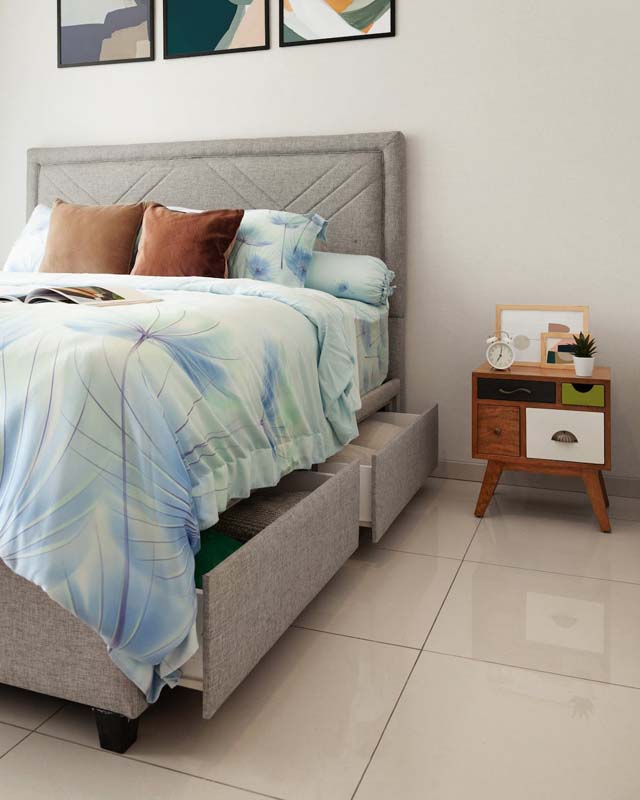 Also, be sure to have clear bedside table space, and room for a lamp, your favourite book, and anything else you need! A nightstand with storage is great for allowing you to have everything at hand, but tucked away neatly for a more restful feel.
Extend the Paint Color
When choosing a color palette, consider pulling the colour into the ensuite bathroom, to make the area feel more cohesive, and seem larger, because the two are tied together.
Make a Beautiful View into the Focal Point
If you have a beautiful view, make the most of it! Face the bed towards it, and have a bench by the window to create a favourite space. Painting the window frames in a coordinating, light paint colour helps draw the eye towards the view.
Quality, Comfortable Furniture
Getting good, comfortable is essential for good sleep and sweet dreams! Little details like a padded, custom headboard make bedtime reading more cozy. Decor choices that are comfy and high quality won't be regretted. Getting good furniture that will last a lifetime and bring quality sleep is a worthwhile investment.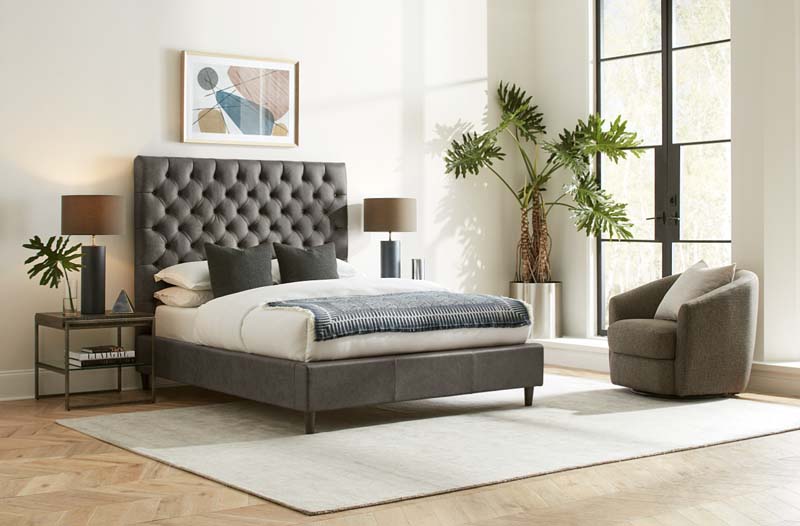 Bedroom Ideas
For a bit of inspiration, here are some current, popular trends for beautiful bedrooms to suit any taste.
Not So Boring Blues
Blue is probably the most restful colour; a room that features two shades of blue is sure to help you sleep tight. A coastal colour scheme is very popular now, with lighter shades of blue and grey. If you are going for this, choose grey or white bedroom furniture that won't overpower the gentle colours, and choose breezy, light curtains. A light blue or grey rug and wall paint colour will tie it all together.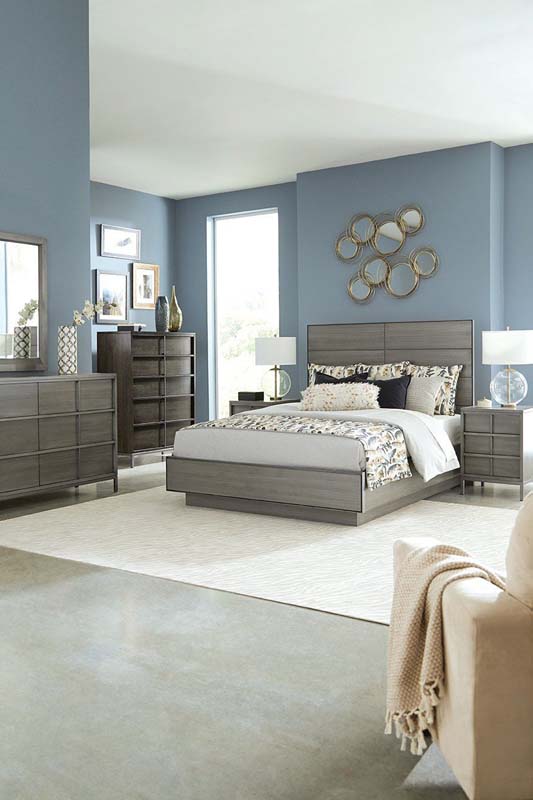 You can also opt for a more dramatic nautical feel, with navy bed linens and accents, with white walls and furniture, or try a modern ice-blue scheme with a white bed set.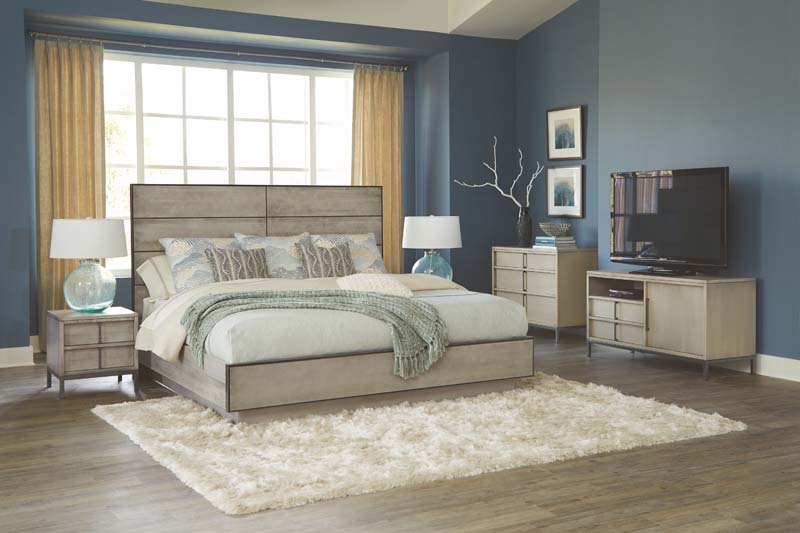 Natural Wood and Neutral Tones
To show off warm wood beams or just for a comforting look, natural materials and wood, with light neutral colours, feels airy and homey. A lighter shade of brown with beiges will give a warm feel without feeling too dark and closed in.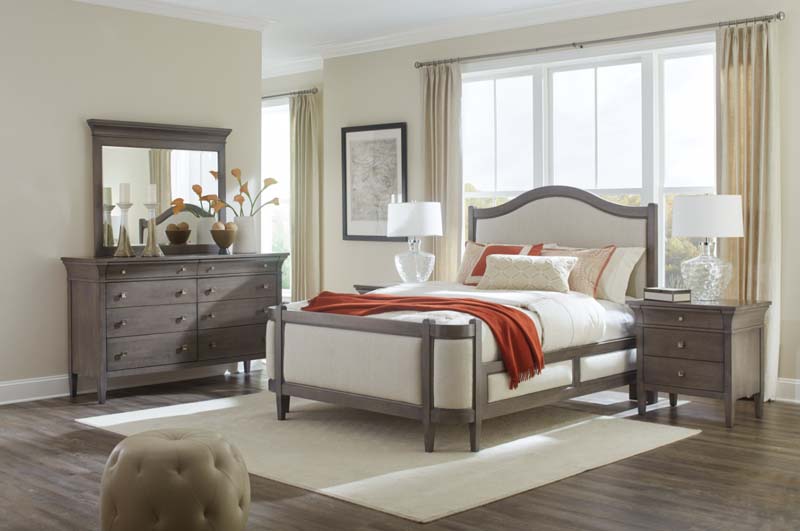 Maximize Natural Light With All White Walls
Nothing opens up a room more than airy, white walls; if you have a smaller room or a lower ceiling, this is a great choice. An all-white bedroom, with just a few contrasting features for interest, looks clean and uncomplicated, and works well with a modern or more traditional vibe. With a deceptively simple look like this, getting a complete furniture set is best, to ensure the whites match, as there is a surprising range, and close-but-not-quite matched can be jarring.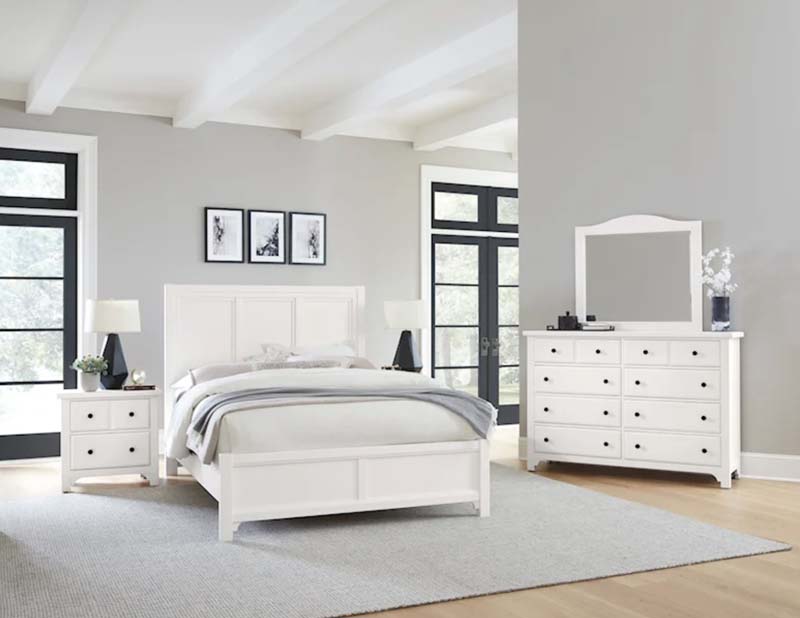 Natural Wood Bedroom Furniture for a Rustic and Homey Feel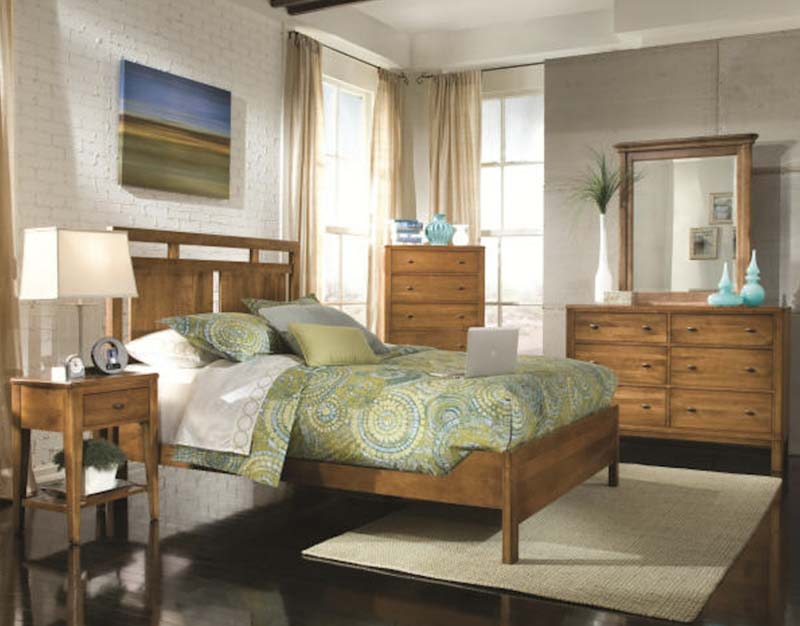 Warm, natural tones and natural wood furniture create a soothing space for sleep, and a look that you won't tire of quickly. Greens and browns work perfectly, and the tie to the colours of nature is mood enhancing. For this look, be sure to pick natural wood furniture. This is an excellent way to showcase the beauty of natural wood and superior pieces.
Bold Bed Frame for a Modern Bedroom
For both primary bedroom or teenage bedroom designs, a contemporary look is always a great option. Bedroom furniture sets in a bold, darker colour, paired with geometric or solid linens, with a pop of colour, makes a statement. Choose bright colors for the pop accent, to add brightness and fun. A gallery wall is especially effective with this type of bedroom.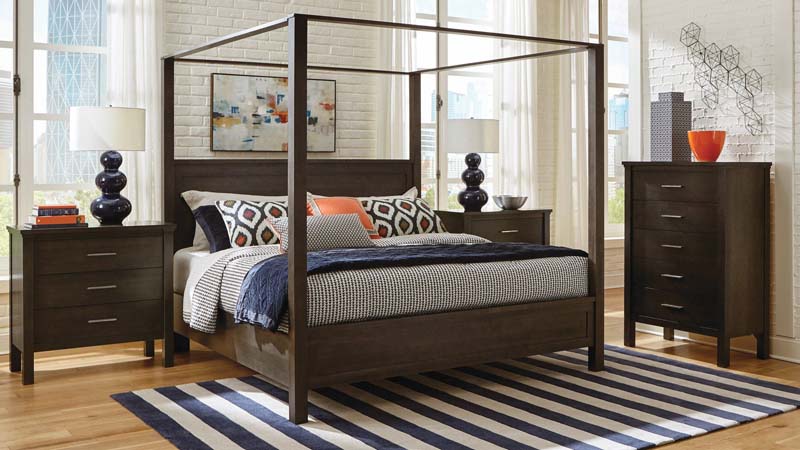 In the Pink
Soft, warm, almost-neutral pinks are on-trend right now, especially for bedrooms. This is excellent for more traditional styles. Floral or delicately-patterned pink bedding works very well paired with warm, natural wood tones. Pink walls and curtains keep the color palette consistent. A wooden bed and bedside tables in a light finish is ideal. Deeper wood or even gold accents can elevate the look.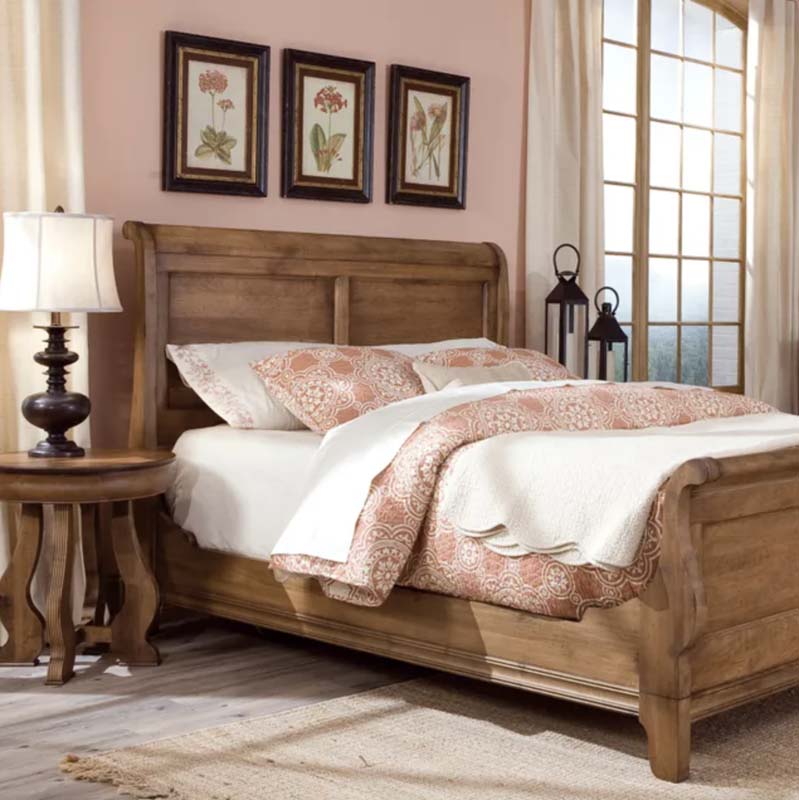 Find Superior Bedroom Items
Smitty's Fine Furniture offers all of the bedroom furnishings you need for your main bedroom or secondary bedrooms. With quality items to last a lifetime, you can enjoy decorating, knowing they will be as comfortable as they are beautiful. Channel your inner interior designer, and create your perfect cozy space!
Smitty's Fine Furniture is a family-owned furniture store specializing in Canadian made furniture and customized solutions. Visit our locations in Kitchener and Hanover:
170A Gateway Park Drive, Kitchener, ON